Frontier City Frightfest Review
I like Halloween, like a lot. Maybe it's the fact that my family had gone to Cedar Point for Halloweekends for nearly it's entire history no matter where we were living in the country. Even though I was always too afraid to go in the mazes (my first maze was Undertaker U in the old carousel building if I remember right), I still loved walking through the scare zones during the day and just enjoying the general atmosphere. When we moved to Ohio, Kings Island was added to the list and it never failed to impress either.
So when I moved down to Oklahoma for school I made Six Flags over Texas my home park and would never fail to go to their Halloween event at least once a year. I was always disappointed with it in comparison to Kings Island or Cedar Point. It had only a few houses that all cost extra money while KI and CP's were free and the free "scare-areas" were extremely disappointing: maybe one or two actors and one fog machine with a few props (The one I really did like, to be fair, was the circus themed one in the Main Street USA area, that was a fun area that didn't suffer from the issues found in most of the areas).
So with this in mind, I'm not going to lie, I had really low expectation for this event. I'd never been to Frontier City but judging by the fact that they are a small regional theme park, I expected their Halloween event to be along the same lines: an upcharge house and maybe one free scare zone. I couldn't have been more wrong…
---
First a quick aside about our day at the park. So we got to the park around 1 or so. When we got there, there were basically no cars in the parking lot.
We immediately walked onto Diamondback, an Arrow launched loop. About what I expected from it although maybe a little bit smoother. The drop was fun but the loop was bumpy enough to make me regret my decision. They're interesting rides that are disappearing so I'm glad I got to ride another one.
After that was Steel Lasso, a Vekoma family suspended coaster. This coaster was on the front cover of the first ACE quarterly magazine I received in 2008 covering ACE's summer conference. They had nothing but good things to say about it and it was a coaster that I was interested in but never thought I would ride it. It definitely lived up to the expectations. I got a front row ride and found the ride to be very smooth and the restraints were excellent, much better than most Vekoma restraints.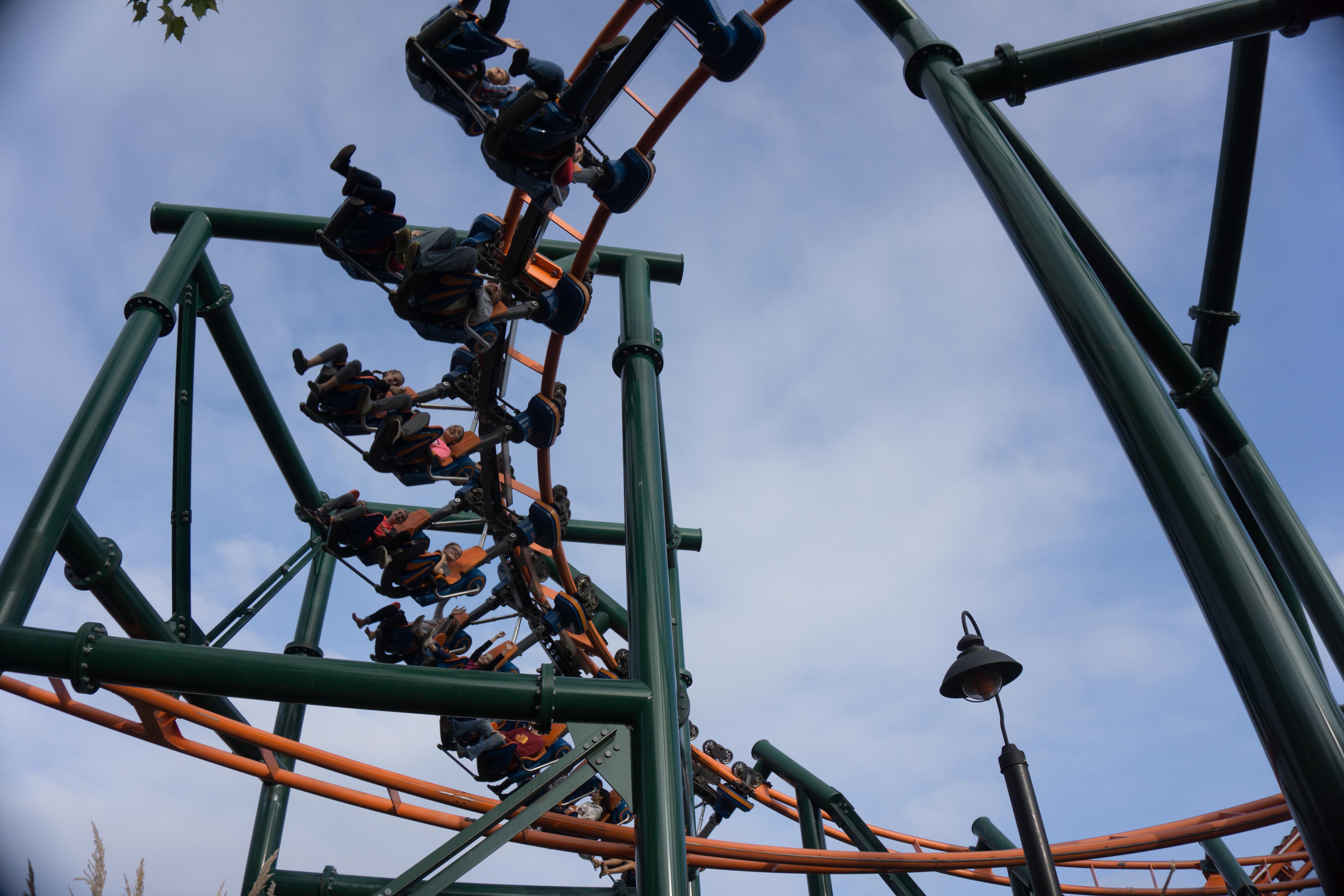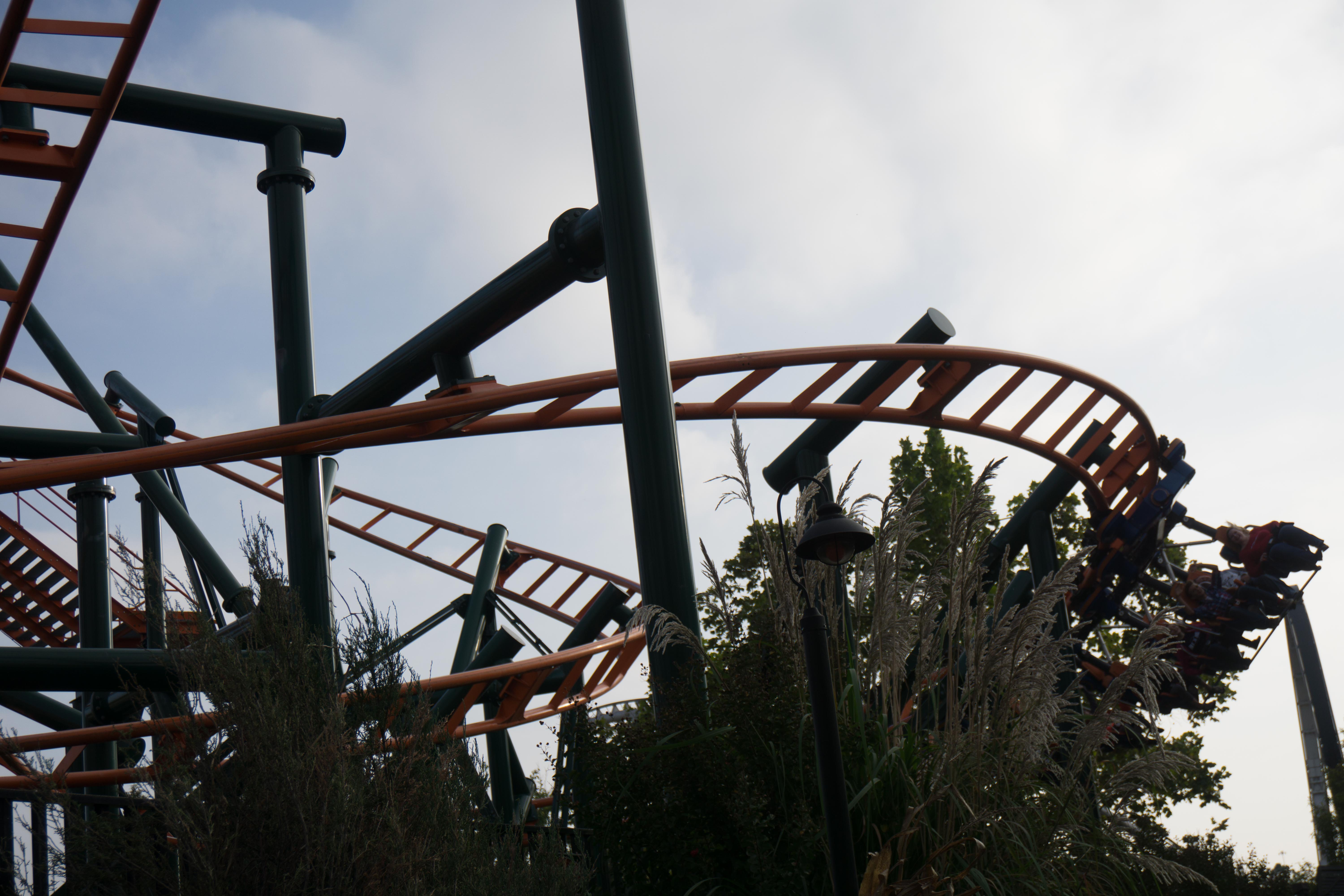 Then on to Silver Bullet, a Schwarzkopf looping star. I was really looking forward to riding this as enthusiasts are in love with Schwarzkopfs and I do enjoy the few I've been on. I was pretty disappointed with this one though, the transitions felt pretty awkward and the ride was too rough for my taste. I was hoping for better but that is completely okay and it is pretty awesome that a Schwarzkopf is the big ride that people talk about in a park in 2016.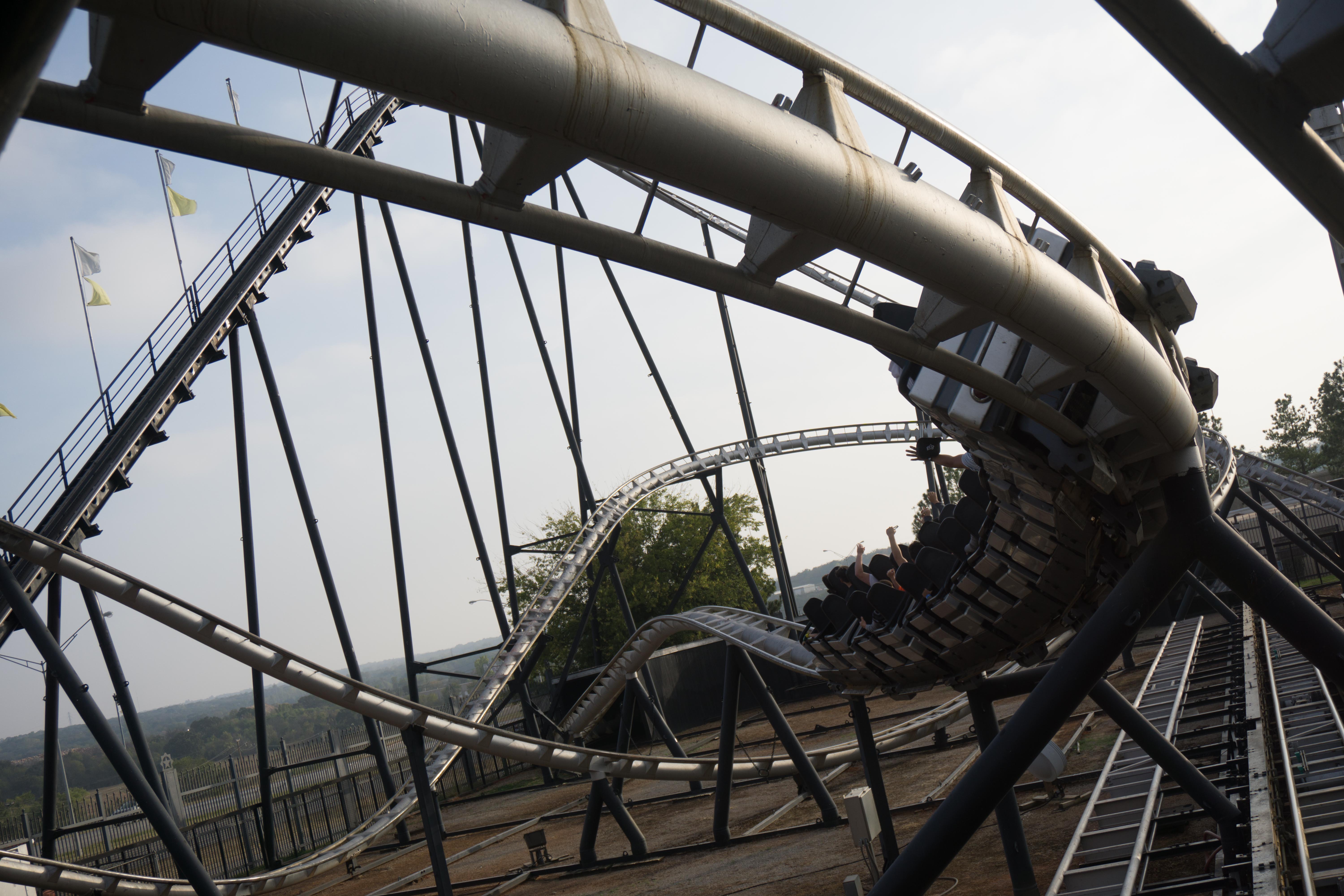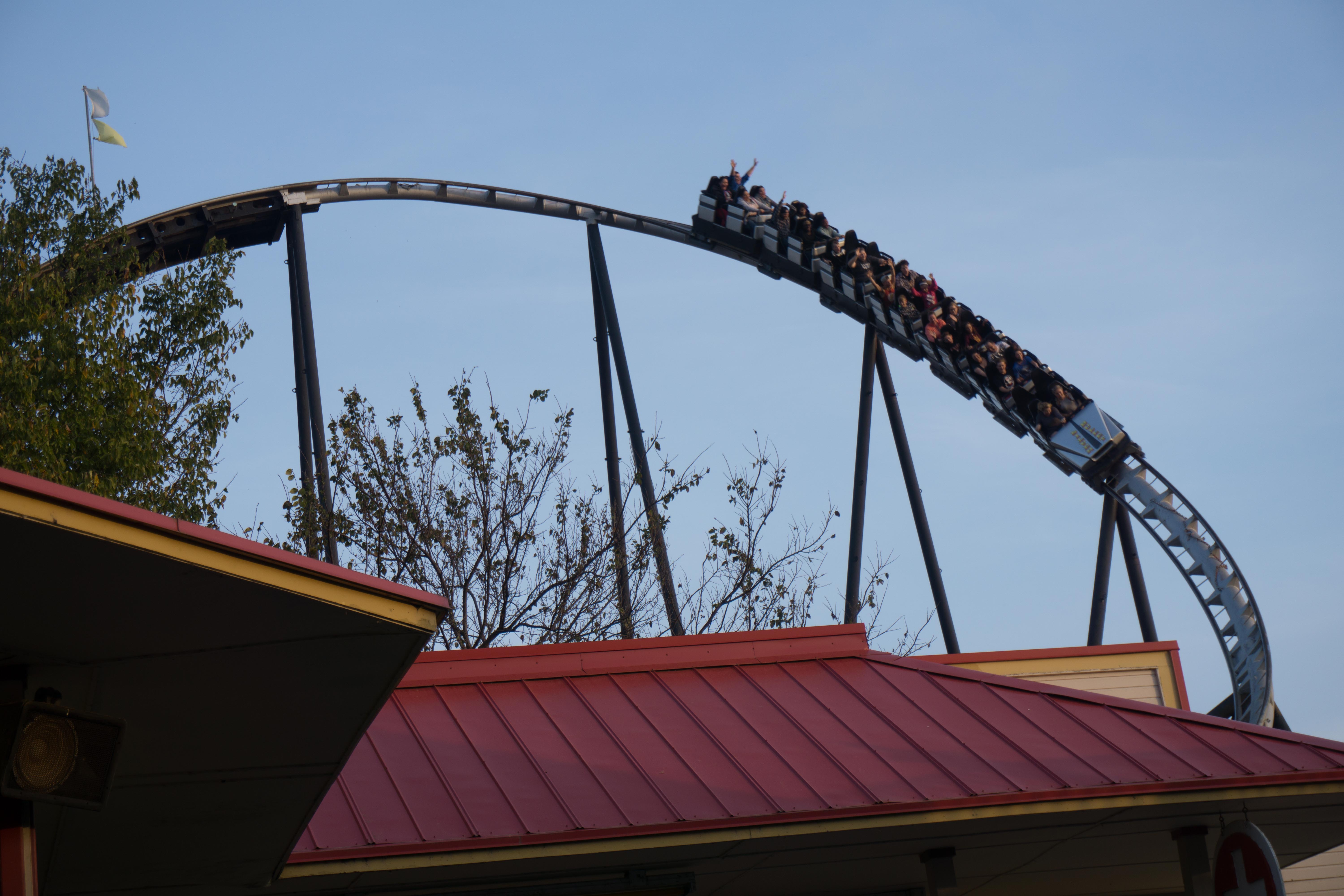 Rounding out Frontier City's coaster collection, we rode Wildcat, an NAD wooden coaster. This was probably my favorite coaster in the park (neck and neck with Steel Lasso) just because it was unique and something I haven't ridden before. The layout was interesting, maybe a little bit of airtime, not a ton but just enough to be interesting. The weirdest part was definitely taking what felt like a good amount of speed into the final stretch only to hit a brake run. Then the train takes a small drop that ends up going below the water level of the adjacent pond before it pulls back into the station. I honestly expected it to be a RCT style splashdown and was a little disappointed when it wasn't!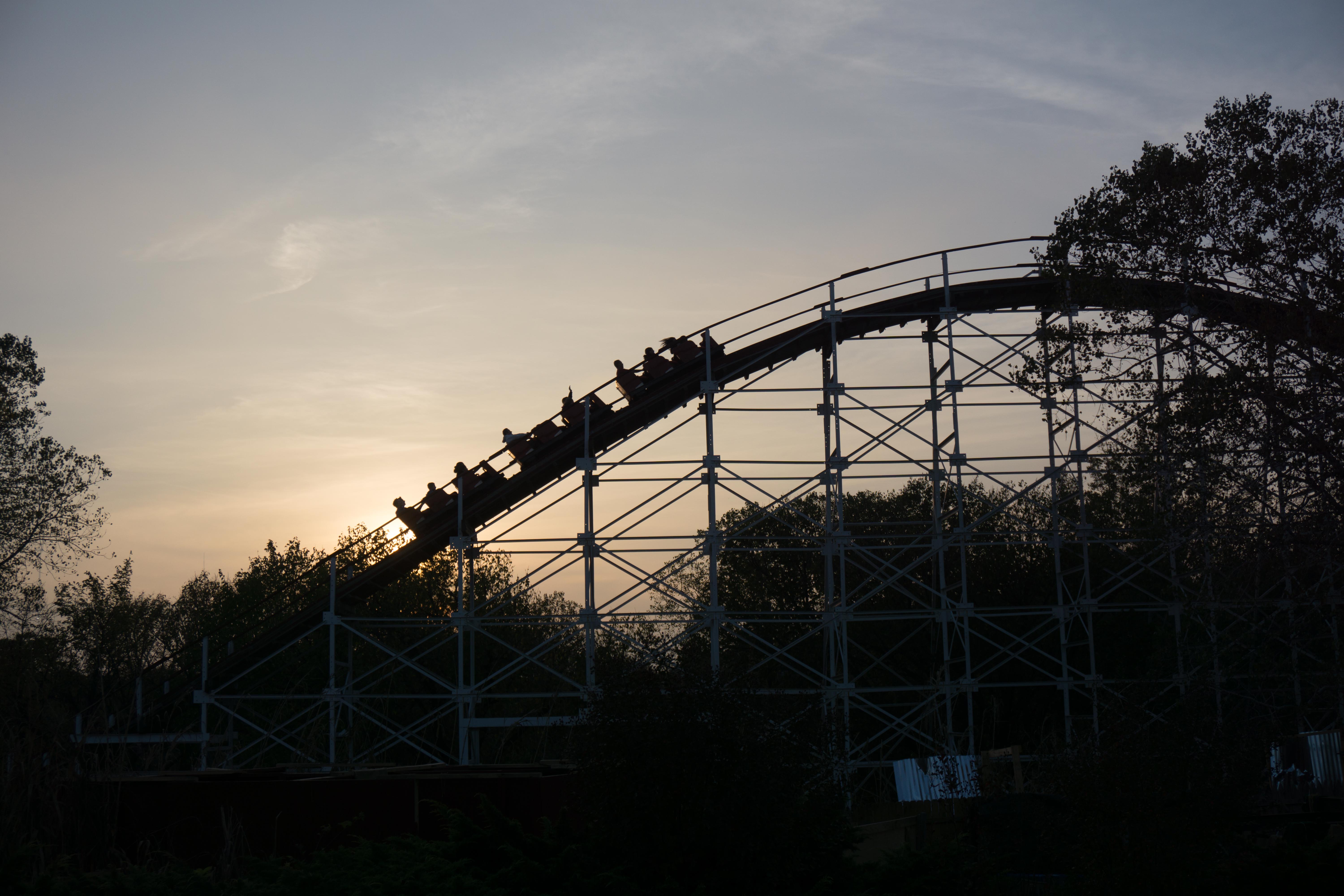 But overall I was pretty happy with the rides. When we went, there was basically no lines for the first hour or so which was great and let us ride as much as we wanted to. We saw a magic show as well as a wild west stunt show. The magic show was pretty good but the stunt show was pretty disappointing. Maybe it was this way because it was the last day of the season but it was about 10 minutes long and felt like they were just reading off of an outline rather than actually acting.
---
So now for the Halloween events. We ended up seeing the Halloween parade, doing all four mazes and seeing two of the shows.
We started our evening off getting caught in the Festival of Fright parade. It was a ten minute or so long parade with a few vehicles (my favorite of which was either a coffin on a go-cart chassis or a hearse with the old Six Flags Fright Fest logo prominently displayed – I know it used to be run by Six Flags). Each of the four scare zones had some of their monsters run by and interact with the crowd. It also gave me a good opportunity to get a few shots of the monsters as they ran by.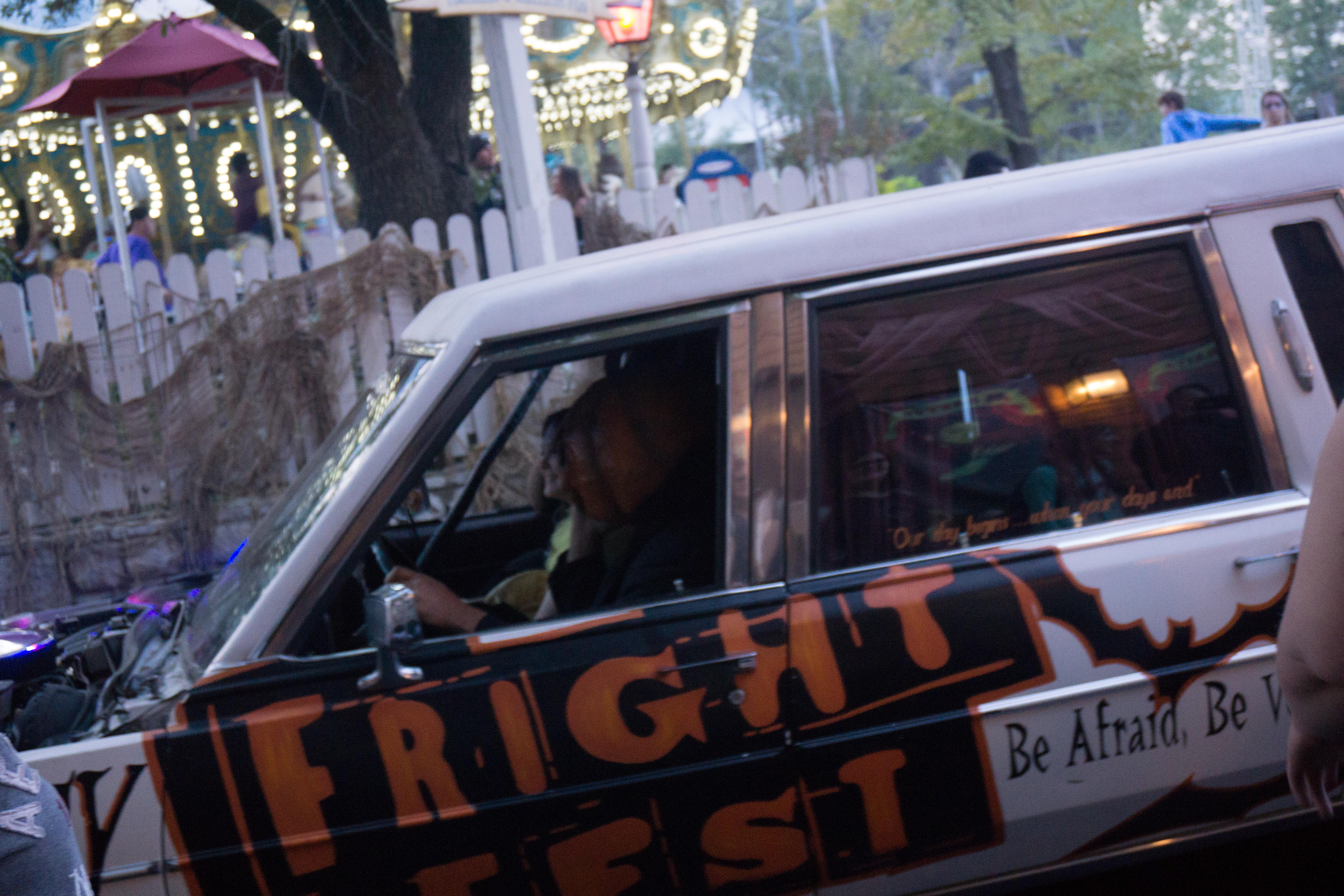 Then we went right to the Opera House for the Freak Show Deluxe. This "carnival-style sideshow you'll have to see to believe" was a lot of fun. The theater filled up extremely quickly (we got there 20 minutes early and got seats pretty far back) and for good reason, it was an interesting performance. There were three performers who did a variety of acts. The main announcer attached heavy things to body piercings and swallowed fire. He was accompanied by two women, a clown contortionist/sword swallower and "Miss Mayhem" who walked on broken glass and also swallowed fire. Although I'd seen similar acts before, it was a fun way to spend 30 minutes.
After the show ended, we ran over to the Twisted Tunnels of Terror maze over in the Wild West Water Works water play structure. We had seen some of these mazes from the ferris wheel earlier and thought they looked fun, lots of wooden walls and props. After waiting in about a 20 minute line (that ballooned to around 40 or so after we got out) we finally got a chance to go in. It was themed to a series of underground tunnels (for some reason with blaring electronic music?). They let us in in very small groups and we started off down the tunnels. The maze was very formulaic: proceed down narrow hallways until you get to a larger room which has many doorways, only one of which goes to the next room and to the exit. This was where the monsters and fog and props were. There were lots of good scares, my favorite being a monster hitting a metal slide with a bat as we walked by. I also really liked the fact that this was an actual maze that we got lost in many times.
Since this maze took less time than we expected, we had time to run over and catch the "Curse of Crack Axle Canyon" stunt show. This took place in the exact same place the previous disappointing stunt show was but this one was much better. Although it featured the exact same stunts, it had a good storyline (guy steals gold, is cursed, zombies) but what really set it apart was the pop culture references. They were liberally sprinkled in and never failed to make me laugh. The two funniest moments for me was when all of the actors, zombies included, broke out dancing to "the Whip" after one of the characters pulled out his whip and, being that it's OKC, the inevitable Kevin Durant joke, making fun of how he was "brave" for leaving OKC for Golden State. The crowd loved that joke. But this was by far my favorite show of the day, the length was good, the stunts were fun and the humor was well done.
Then came a trio of mazes. First up was "3 Little Piggs". Themed to a slaughterhouse, this reminded me a lot of the similar themed one at Kings Island that I got a chance to tour. This one was our favorite of the night. The layout was very good, there were plenty of monsters who all varied their tactics: some were hiding, others would follow you, others would just stand around, I was a big fan. The best part of the maze was definitely the part where you had to crawl through a tunnel. I kept expecting a monster to pop out while I was down there which never happened but the tension was fun!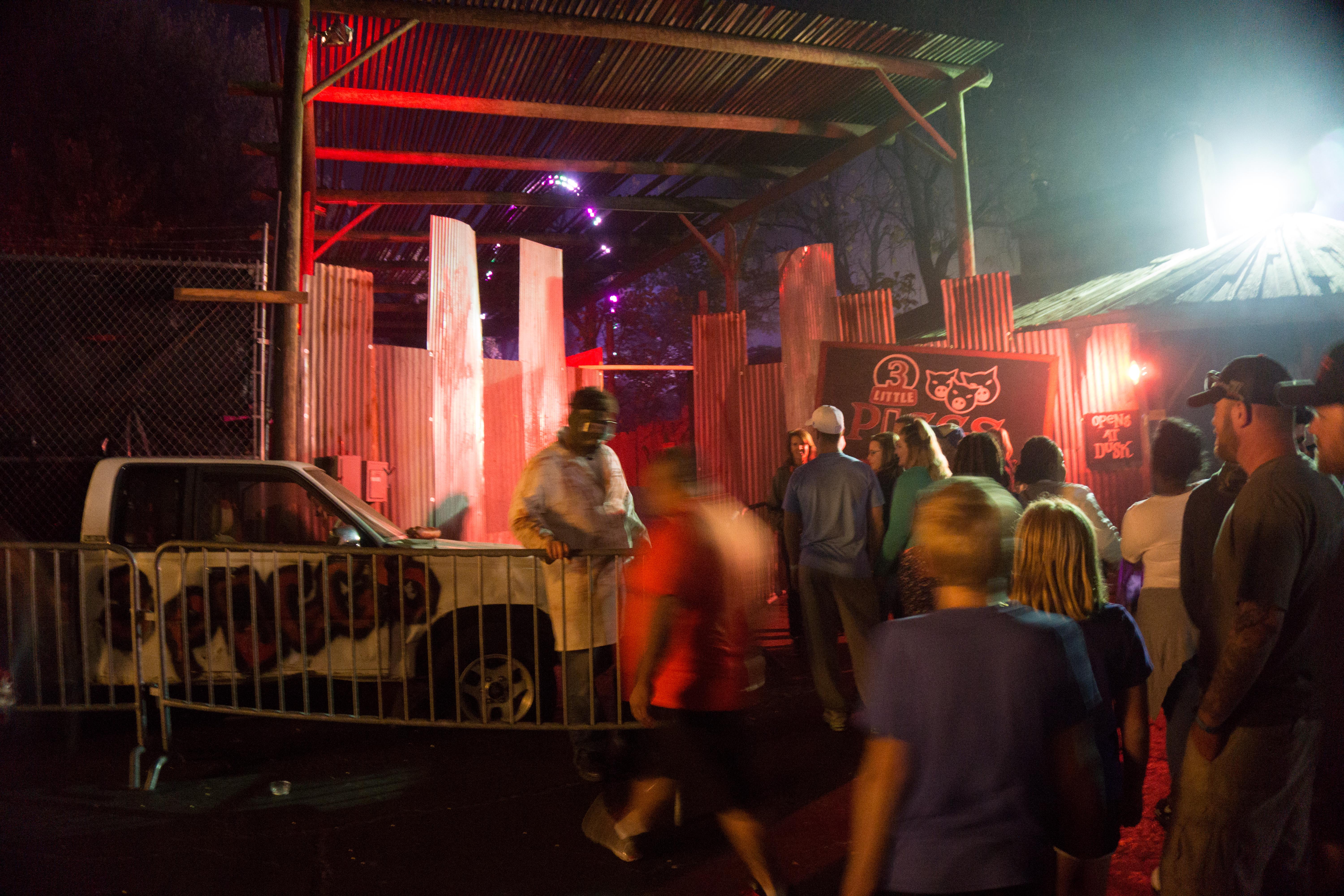 Then came Field of Screams, just like Cornstalkers at Cedar Point. This was my second favorite maze of the night. It had all of the traditional scares you might expect in a haunt like this, lots of monsters hiding behind scarecrows or posing as them only to pop out when you got close. The best part of this maze was the scare that as soon as you get out of a narrow hallway, there is a monster waiting at the end that shines a bright light in your face and activates a semi-tuck sound. Kind of a scary moment in this maze, the woman in front of us fell about halfway through since she was running away and didn't get up for a few minutes. Luckily she ended up being okay.
To round out the mazes we went through "Burial Bayou", just like "Blood on the Bayou" at Cedar Point. This was my least favorite maze even though it was still good. The first half was good but the second half was a little too quiet. There was probably a one or two minute period (the mazes usually took around five minutes to walk through) where we saw no monsters at all. Not all of them can be amazing though!
After this we left. Like I said, I was extremely impressed. Comparing it to SFOT, there is no comparison, Frontier City is so much better of a Halloween event. The free "scare zones" are so much better and if I had to wager I would bet that the upcharge house would be better too. If anyone is debating going to Frontier City next Halloween, I would very much recommend it!